SUNSET ON CAMP SUNSHINE
Group - Comedy, by Ken Bradbury, 2015
Camp Sunshine has had a great 20-year run and now it's time to close up the tents and pack up the wieners. Here's the last installment of that strange little spot in Arkansas. This sequel to the popular Camp Sunshine is a final reunion for Uncle Ernie, G-L-O-R-I-A Gloria and the gang as they return for a last visit to camp. Meanwhile, the bulldozers roar in the background to smash the place to smithereens for a mega-mall. Kum-bah-yah, baby!
The number and gender of characters can be changed to accommodate available participants. Price is for a master script. Make as many copies as is required for your ensemble.
Duration
10 - 12 minutes
Cast Options

3 Females, 2 Males
Product Id: #855
Look for similar items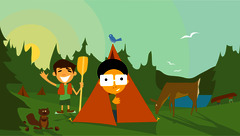 An excerpt …
GLORIA: (blowing into an imaginary microphone … and blowing and blowing, then …) Can you hear me? Can you hear me now? Hey! You folks in the back of the bus! Can you hear me? Okay … okay. So my name is Gloria. That's G-L-O-R-I-A, Gloria. As many of you know, I am the former 4th runner up in the Miss Arkansas Beauty pageant and the former activity director of Camp Sunshine, the best little Baptist Bible Camp in Arkansas … or at least it used to be. I'm glad you've joined us for our farewell tour around the campsite. I gotta tell you that this is an emotional moment for many of us. Dear old Camp Sunshine holds a special place in our hearts … and tomorrow it all comes crashing down. As you can see, our bus driver is now turning left on Armageddon Avenue. Please keep all body parts inside the windows.
UNCLE ERNIE: Easy…easy gettin' off the bus folks. Let's have the walkers first…that's it. That's it. Okay? Everybody here? As G-L-O-R-I-A Gloria probably told you when you got on, this here is the last weekday of Camp Sunshine, that spot made most glorious by the Lord God Almighty, right here in the middle of the Garden of Eden, Arkansas, United States of America. My name is Uncle Ernie … Ernest, startin' tomorrow when I'll be workin' at the new Wal-Mart that's gonna be built right here on the site of what is now Camp Sunshine. You'll have to excuse Gloria. The events of this summer have put her into quite an emotional snit, despite her heavy use of sedatives. Every half hour or so we need to give her a few moments alone to have a nervous breakdown. Now on your right …
SKIP: (texting) Dear Margo, this is so cool. Ever since your old man bought this camp, then got a Wal-Mart franchise my folks have quit tryin' to send me to summer camp. I needed a break. I got baptized six times last summer and I was startin' to get a rash from the algae in the pond.
MARGO: (texting) Dear Skip, I never want to speak to you again.
SKIP: What? What did I do? Come on, honey! We had a thing goin'!
MARGO: Dear Skip … When you applied for a job at Daddy's new Wal-Mart you wrote, "By the way, your daughter is mighty fine." on your application. Daddy read it. He's given your name to the Arkansas State Police.
UNCLE ERNIE: Now this building right here next to the wrecking crane, that's the Camp Sunshine Worship Chapel. In a few months it'll be the sight of ladies' underwear. Did I say that right?
SKIP: (texting) Hey, I just wanted to say that I knew the boss's daughter!
MARGO: The boss was not happy. Good luck, Bubba.
Reviews
No reviews have been written for this product.