COONRIDGE DEVOTIONS
Book, by Ken Bradbury, 2011
Another offering from Freida Marie Crump, the fictional news correspondent from Coonridge, Illinois. In this latest book, Freida spins tales and philosophies in 104 entries — and concludes each one with a Christian prayer. 100 pp.
Duration
Product Id: #504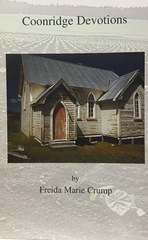 An excerpt …
Last Laugh
It was kind of a grown-up show and tell. As soon as the boy pulled the worn horn from its shopping bag carrying-case, Janelle began to laugh.
Janelle was a 7th-grader not known for an over-abundance of tact. She suffered from terminal adolescence. "That's really gross!" she giggled.
The young man looked up at her with his big, blue eyes and said, "I've always wanted a horn but my family couldn't afford one. My Mom said that if no one bought her a Christmas present then we'd put the money on this horn. It's all we can afford."
Then he played "Silent Night" as Janelle wept, recalling her rude remarks. When the boy finished he walked by Ms. McAfee, winked, and said, "I think she actually believed that story."
Lord, when my tongue gets ahead of my brain, please pull in my reins. And thank you for so often doing it with a sense of humor.
A Small Prayer
It was one of the best prayers I'd heard in my life.
A group of knee-high youngsters were preparin to present a little song and dance for our church program and their teacher had joined them in a circle of prayer before their performance. When it got around to little Daniel, he shut his eyes tight and simply said, "God we ain't too good here on the back row. Please help us to not screw up."
The teacher, whose heart for kids and Christ was as large as Daniel's honesty, tried but failed to stifle a giggle.
I've heard many prayers from pulpit, podium, and park bench but none as fervent and honest as that of Daniel as he simply needed help in this one thing.
All of us are desperate to hide our faults and imperfections. Remember the times we've secretly wished not for success, but simply an escape from makin a fool of ourselves?
God, we ain't too good here on the back row. Please help us to not screw up.
Reviews
No reviews have been written for this product.