CHILDREN'S STORIES FOR ALMOST EVERYONE
Book, by Robert L. Crowe, 2006
CHILDREN'S STORIES FOR ALMOST EVERYONE is a compilation of 18 stories that have themes directed to older children and adults. The book is sub-titled "a reader" and the author suggests that children read the stories to adults. The stories are directed to ages 9 and up but young children will also enjoy hearing the stories. Dr. Crowe has published three previous children's picture books. CLYDE MONSTER won the "Library of Congress Award for Children's Literature" and TYLER TOAD AND THE THUNDER was selected for the "Children's Choice Award" by the American Library Association. Both are published by Putnam-Penguin in New York. His first book was THE FASTEST TRIP IN THE HISTORY OF TURTLE. The book is 92 pages, paperback.
Duration
Product Id: #509
Look for similar items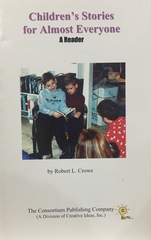 Reviews
No reviews have been written for this product.