AROUND THE WORLD WITH FREDIA MARIE CRUMP
Book, by Ken Bradbury, 1999
Twenty-seven humorous prose selections on international travel by the legendary and imaginary news correspondent from Coonridge, Illinois. It is a compilation of some of the weekly newspaper columns of Freida Marie Crump. 94 pp.
Duration
Product Id: #503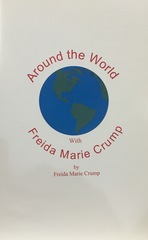 An excerpt …
Lookin' the Part
Never let a man shop alone. Never, never, never.
Herb and I have planned the trip of our dreams, and before long we'll be steamin' around Alaska's glaciers, happy as hogs in the pantry. I've planned and plotted this little excursion for over a year. We'd hoped to do this for our fiftieth wedding anniversary until it became clear that one of us has gotta go before long or I'm gonna konk the little poop in the head.
Our cruise itinerary lists seven evenings of dining: 3 casual, 2 semi-formal, and 2 formal. I have a slight notion of what the first and last terms mean but haven't a clue on the second. Semi's always confuse me.
I told Herb that like it or not, he was gonna have to dress up at least four night to eat. He allowed as how that was silly and he wasn't gonna do it. I allowed as how Coonridge is just full of older ladies who'd love to go to Alaska with me.
So, unbeknownst to me, Herb snuck into town to buy clothes. (The cruise line offers tuxedo rental at $100 a pop. Herb popped when he read this and opted to shop at home.) Herb knows only one clothing store. I'm not kiddin'. If his life depended on it, he could only name one: Lockman Brothers Clothiers, Home of Fine Masculine Fashion. I always go with him when he needs a suit or coat. Always. Never fails. Until last week.
I think the store's owner, Jack "Lucky" Lockman sees him comin'.
"Look," he'll say. "Here comes Herb Crump. I'm finally gonna unload those peach suspenders."
Lucky Lockman slaps Herb on the back, tells him he's lookin' so fine for a man of his age, jokes about wife (when I'm not there) and proceeds to sell. Herb every item that's been in the shop since Harry Truman closed his hat store.
"I'm goin' on a cruise, Lucky," says Herb, puffed up like he was the first explorer to set foot on Alaskan soil. "I'll be needin' me some formal clothes."
"Herb," says Lucky, "have you ever had a pair of teal pants?"
"Ain't that a duck?" says my husband, the connoisseur of high fashion.
"Herb, everybody in Chicago is wearing teal this season," says Lucky, eyeing that pair of teal pants whose hanger crease has become embedded and has startin' payin' its own property taxes.
"Well, says Herb, "if that's what they're wearin', then let me try a pair."
Teal! Teal pants! And a shirt whose color I haven't seen since I threw away my last box of crayolas! ……
Reviews
No reviews have been written for this product.